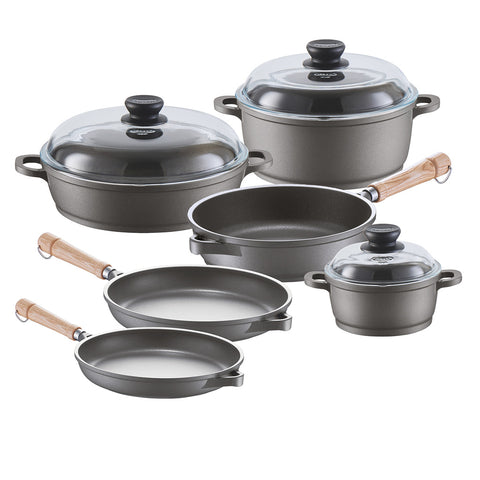 671209W Tradition Induction 9 Piece Cookware Set Berndes
Broaden your cookware collection with the 9 Piece Tradition Induction Cookware Set by Berndes. Includes the 8.5-inch frying pan, 11.5-inch frying pan, 2.5-quart sauté pan, 4-quart sauté casserole pan with 11.5-inch lid, 1.25-quart Dutch oven with 6.75-inch lid and 4.5-quart Dutch Oven with 10-inch lid. The 9 Piece Tradition Induction Cookware Set will help you blanch, braise, slow cook, bake, boil, sauté, stew, and so much more! Since 1921, Berndes cookware has been made in Germany, carrying forward the same renowned Germany quality into the present day.
Limited Lifetime Household Warranty
Made in Germany
3-layer non-stick surface ideal for low-fat cooking 
Handwashing recommended
Wooden handle pans oven safe up to 300˚F
Molded side handles (dutch oven) oven safe to 350˚F
Pyrex glass dome lids oven safe to 350˚F
PFOA free
Compatible with all cooktops (including induction)
Made of 2.5mm high-quality aluminum
Premium 6mm premium induction base allows for even heat distribution
Formed through vacuum casting
Limited Lifetime Household Warranty
Berndes U.S.A. (Range Kleen Mfg., Inc., exclusive North American distributor) warrants cookware to be free from defects in workmanship and materials under normal household use to the original purchaser.  Ceramic and Nonstick coating is guaranteed not to peel off under normal household use.  Marring of ceramic and nonstick is normal and does not affect the nonstick properties or cookware.  To maintain your cookware, we recommend you follow the Use and Care instructions carefully.
During this period, Range Kleen Mfg., Inc will repair or replace, at it's option, any defective item returned to Range Kleen with original purchase receipt.  If the item is out of production, an item of similar value and function will be substituted.  Commercial use of this product voids this warranty.  Incidental or consequential damages are not covered by this warranty.  This warranty is non-transferable. 
This warranty will not cover damage caused by misuse of the product in direct opposition to the supplied use and care.  All discoloration, scratches and stains, or other signs of misuse or abuse of the cookware that do not affect the function of your cookware, is not covered under this warranty.
This warranty gives you specific legal rights.  You may also have other rights which vary from state to state. 
CONTACT US:
INFO@BERNDES-COOKWARE.COM
419.331.8000 
---
We Also Recommend
---